Death of the High Street: Can We Save It?
Every day it seems another national retailer is having administration issues, is closing stores left right and center or is disappearing from the high street altogether.
From Toys R Us and Maplin going into administration to New Look and M&S closing doors across the country, speculation about new possible directions, ecommerce and management have never been rifer.
But how are us Brits actually affected day to day by these changes? And can the high street be salvaged?
Atomik Research polled 1000 Brits to get their thoughts.
Without question, the high street is losing popularity. With the ongoing rise of online trade and independent giants like Amazon cornering markets like technology, it's no surprise that the majority (75%) of Brits visit their local high street less than 5 times a month, with 27% going just once or twice.
But our habits have evolved over time. Compared to just two years ago, people are twice as likely to be visiting the high street less often (34%) than more often (15%). Younger generations in particular have been driven away; with 40% of 18-24-year-olds shopping on the high street less often than before.
We also looked at how high streets would be affected regionally. High streets are likely to have been hit hardest in the North West, where 42% of people are visiting less often than before, as well as Yorkshire and the Humber (41%) and the South East (41%).
Press and public alike were most surprised by the recent announcement of a wave of store closures at M&S. The store goes beyond being a high street staple for so many, and is just as tied to us Brits as digestives and tea.
Therefore it's no wonder that when we asked how people would feel in particular about losing M&S that almost half of those surveyed (47%) felt sad at the prospect. Again, however, there's an age divide here – With M&S failing to attract enough younger shoppers, it is the majority of those aged 65+ (63%) and 55-64 (55%) who feel sad at the thought of losing the national treasure.
There remains a nostalgia for retailers of years gone by – with Woolworths being the retailer that 67% of UK adults miss the most, followed by 28% missing BHS (28%).
With our high street history still playing on our mind, it's almost surprising that just 33% of shoppers would pay higher prices to help shops stay in business, and the majority would not. But the only notable exception here is London, where 51% of people would be willing to pay higher prices to help save the high street.
Although online competition is thought of being the biggest threat to the high street, the research found that more than twice as many people shop in-store rather than online – 48% compared to 20%.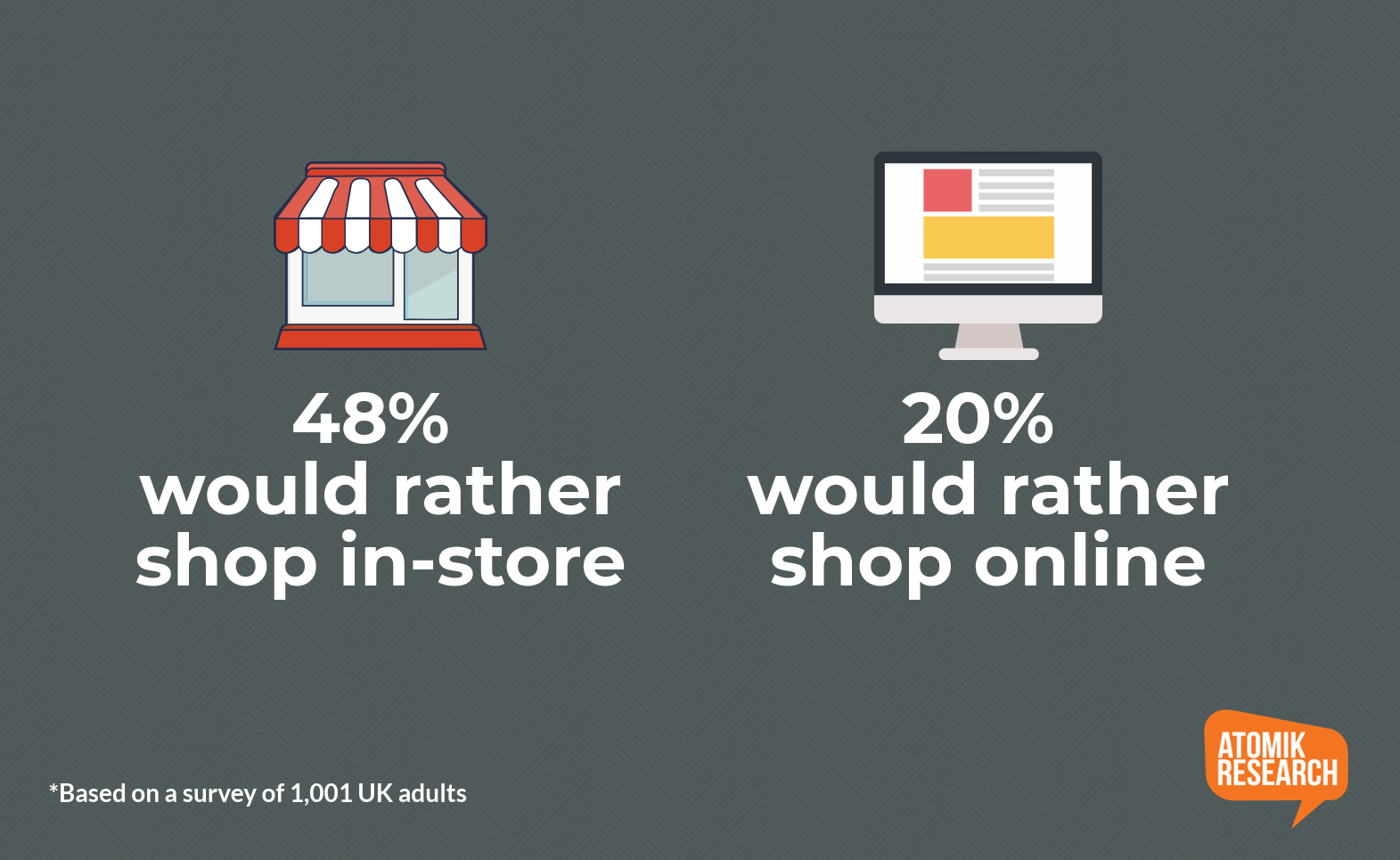 So considering that just 15% of those surveyed are shopping more often on the high street than two years ago, what can be done to drive an increase in local visitors?
We asked people to rank the top things that they would like to see more of on the high street.
Independent retailers (56%) and cafés/restaurants (36%) came to the top of people's lists.
The idea of unique, personal items that are usually tailor-made would bring a brilliant new feel to a lot of high streets, which have the tendency of looking vaguely similar in every town in the country – but surely the independent stores would only provide more competition to the established giants.
In the case of M&S and Next, experts pointed to different tactics to entice shoppers. With the likes of online retailers ASOS and Boohoo succeeding through their mass-produced, cheaply-made and seasonal wear, commentators suggested for M&S to ditch their brand of "solid and reliable" clothing for cheaper, trendier and younger collections.
It seems the people are calling for creativity. More social spaces, more variety and novelty in fashion, and more options when it comes to food. And if the shops we know and love can master these, there may be hope for our high streets yet.